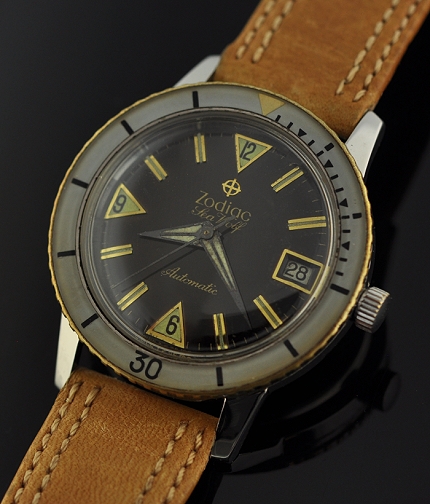 SOLD!
Click watch above...more detail will appear...
This vintage, 1960's ZODIAC SEA WOLF AUTOMATIC dive watch is all original having a striking black dial with triangular and baton markers. The ZODIAC SEA WOLF is a classic vintage dive watch. The 35mm. stainless steel case is in very fine condition...no major dings or scratches. The automatic, rotor winding zodiac movement was recently cleaned and overhauled and is keeping accurate time.
Please sign up for my update list...all emails are kept private...never given out or used for any other purpose except fresh watch updates.
Receive Fresh Vintage Watch Updates By email CLICK HERE
WatchesToBuy.com
250 Wharncliffe Rd. North
London, Ontario
Canada N6H 2B8
Please email us>click here
phone: 519.266.4380
WatchesToBuy Inc.
Vintage Watch Specialist: Derek Dier
NAWCC member # 0135802
Copyright © 1999-2014 WatchesToBuy Inc.