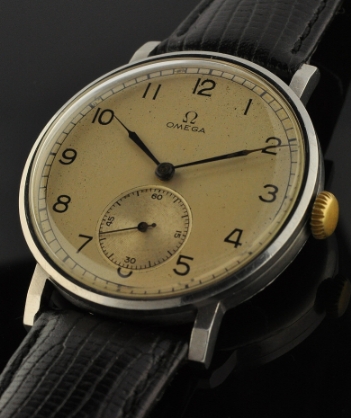 SOLD!
Look at this vintage 1935 OMEGA measuring a HUGE and sprawling 37.5mm. across in stainless steel! The ORIGINAL and signed (uncommon oversized) angled lug OMEGA case has a snap-back and displays fine shape for its age. It is rare to find a case such as this with sharp, angled lugs that has never been polished over the years. The dial was expertly restored many decades ago, with even and lovely patina. It is VERY hard to tell this dial was restored. The dial looks absolutely original-only a pro can tell. The OMEGA movement is the famous and highly desirable 30T2, which has just been cleaned and is accurate-look at its clean condition
> ]]>
Additional information
| | |
| --- | --- |
| Brand | |
| Metal | |
| Type | |
| Year of Manufacture | |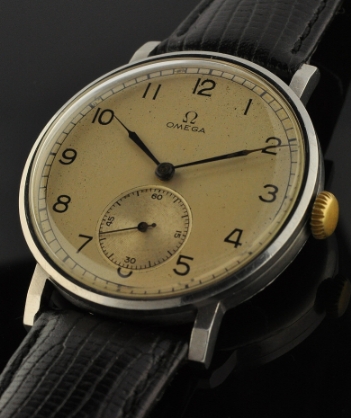 SOLD!
Look at this vintage 1935 OMEGA measuring a HUGE and sprawling 37.5mm. across in stainless steel! The ORIGINAL and signed (uncommon oversized) angled lug OMEGA case has a snap-back and displays fine shape for its age. It is rare to find a case such as this with sharp, angled lugs that has never been polished over the years. The dial was expertly restored many decades ago, with even and lovely patina. It is VERY hard to tell this dial was restored. The dial looks absolutely original-only a pro can tell. The OMEGA movement is the famous and highly desirable 30T2, which has just been cleaned and is accurate-look at its clean condition
> ]]>
Additional information
| | |
| --- | --- |
| Brand | |
| Metal | |
| Type | |
| Year of Manufacture | |