Description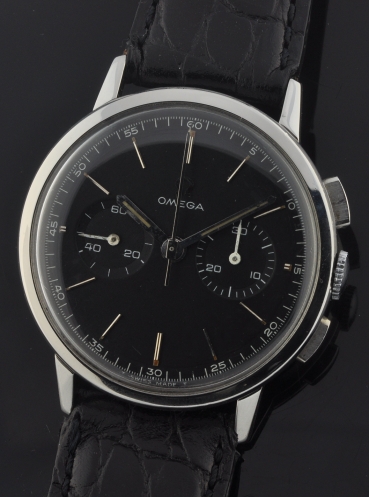 Click watch above…more detail will appear…
SOLD!
T his is very uncommon and early 1960's OMEGA caliber 320 chronograph! This 35mm. stainless steel OMEGA is completely original; having square pushers and signed OMEGA case all in very fine scratchless condition. The black dial is completely original and untouched-spectacular, with raised steel Arabic markers and pencil style hands with 30 minute register and constant seconds. Finding original black dials on these watches is quite rare The caliber 320 movement is uncommon to find-the predecessor to the famous caliber 321. This watch is keeping accurate time and all functions are operating smoothly and properly. This is one of the finest all original caliber 320 examples you will ever find
Page 1 2 3 4 5 6 7 8 9 of used vintage watches to buy Vintage Watches under $300 Vintage Watches $300-$600 Vintage Ladies watches to buy Vintage military watches to buy Vintage Watch Accessories to buy View our guest book Sign our guest book Vintage watch Links Ordering information HOMEPAGE
Please sign up for my update list…all emails are kept private…never given out or used for any other purpose except fresh watch updates.
FRESH VINTAGE WATCH AUTOMATIC email CLICK HERE
WatchesToBuy.com
250 Wharncliffe Rd. North
London, Ontario
Canada N6H 2B8
Please email us>click here
phone: 519.266.4380
WatchesToBuy Inc.
Vintage Watch Specialist: Derek Dier
NAWCC member # 0135802
Copyright © 1999-2014 WatchesToBuy Inc.–>> ]]>