OMEGA Chronograph caliber 861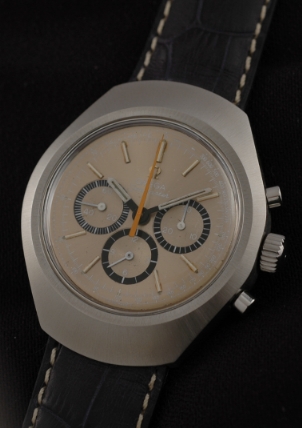 SOLD!
Click watch above…more detail will appear…
Here is a very uncommon, (dating to 1970) MASSIVE size Omega Seamaster caliber 861 chronograph with rare, original bronze dial having black, light and dark blue reflective registers, baton markers and hands, raised OMEGA symbol at 12:00 along with orange chrono seconds. The pristine stainless steel (uncommon) OMEGA case style measures 40x48mm. Having hidden lugs, polished pushers and original OMEGA logo crown. The caliber 861 manual winding (high quality) OMEGA movement (as seen in the 1960's-70's OMEGA SPEEDMASTER) was just cleaned and overhauled and is keeping accurate time with all functions working perfectly. The original dial has some minor age marks…nothing detracting…it looks great! It is quite uncommon to come across these huge (hooded lug) cased OMEGAS… add to that the interesting and original dial along with one of OMEGAS' best movements and you have a really collectable and har
> ]]>
Additional information
| | |
| --- | --- |
| Brand | |
| Metal | |
| Type | |
| Year of Manufacture | |
OMEGA Chronograph caliber 861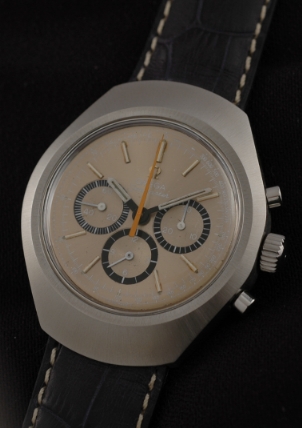 SOLD!
Click watch above…more detail will appear…
Here is a very uncommon, (dating to 1970) MASSIVE size Omega Seamaster caliber 861 chronograph with rare, original bronze dial having black, light and dark blue reflective registers, baton markers and hands, raised OMEGA symbol at 12:00 along with orange chrono seconds. The pristine stainless steel (uncommon) OMEGA case style measures 40x48mm. Having hidden lugs, polished pushers and original OMEGA logo crown. The caliber 861 manual winding (high quality) OMEGA movement (as seen in the 1960's-70's OMEGA SPEEDMASTER) was just cleaned and overhauled and is keeping accurate time with all functions working perfectly. The original dial has some minor age marks…nothing detracting…it looks great! It is quite uncommon to come across these huge (hooded lug) cased OMEGAS… add to that the interesting and original dial along with one of OMEGAS' best movements and you have a really collectable and har
> ]]>
Additional information
| | |
| --- | --- |
| Brand | |
| Metal | |
| Type | |
| Year of Manufacture | |