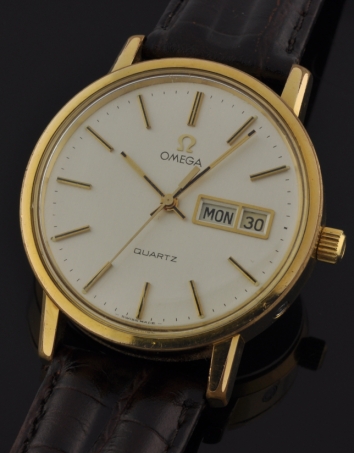 SOLD!
This vintage OMEGA QUARTZ battery operated early electronic watch dates to 1977. The gold filled case with stainless steel snap back measures a large and hefty 34.5mm across, 11mm. thick, being mostly dial-looks very large on the wrist! The white dial is pristine, having day/date, baton hands and markers- flawless! Notice the original hesalite crystal with impregnated OMEGA symbol. The original crown with middle button allows quick setting for all features. The high quality OMEGA quartz movement is highly accurate and is extremely reliable. To set the watch, pull the crown (winder) out and turn to set the hour hand only. Depress the button within the middle of the crown with a paper clip or pin (twice) then hold the button in to set the minutes. For the date, use a paper clip in and out (slowly) depressing the setting button located below the setting crown. This is a great every-day-wearing vintage and reliable watch we have priced quite low at ONLY
> ]]>
Additional information
| | |
| --- | --- |
| Brand | |
| Metal | |
| Type | |
| Year of Manufacture | |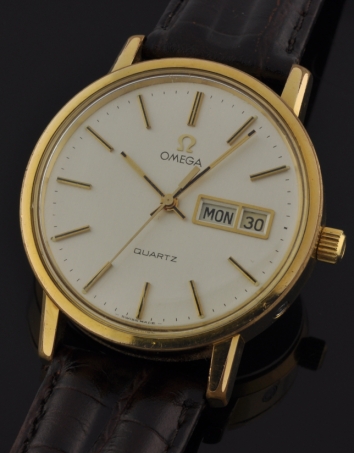 SOLD!
This vintage OMEGA QUARTZ battery operated early electronic watch dates to 1977. The gold filled case with stainless steel snap back measures a large and hefty 34.5mm across, 11mm. thick, being mostly dial-looks very large on the wrist! The white dial is pristine, having day/date, baton hands and markers- flawless! Notice the original hesalite crystal with impregnated OMEGA symbol. The original crown with middle button allows quick setting for all features. The high quality OMEGA quartz movement is highly accurate and is extremely reliable. To set the watch, pull the crown (winder) out and turn to set the hour hand only. Depress the button within the middle of the crown with a paper clip or pin (twice) then hold the button in to set the minutes. For the date, use a paper clip in and out (slowly) depressing the setting button located below the setting crown. This is a great every-day-wearing vintage and reliable watch we have priced quite low at ONLY
> ]]>
Additional information
| | |
| --- | --- |
| Brand | |
| Metal | |
| Type | |
| Year of Manufacture | |