Description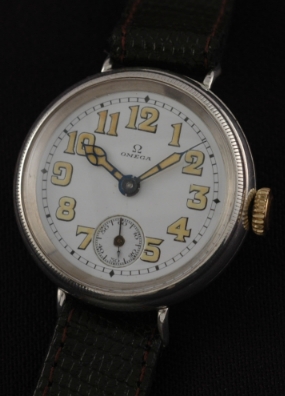 SOLD!
This is a vintage 1917 military watch in sterling silver, measuring 33mm. The sterling case is quite interesting and fine. To gain access to to the movement, one unscrews the coin edge bezel and opens the hinged case; displaying the manual winding OMEGA movement which is in very fine condition! The original porcelain dial is virtually flawless; a very rare find: even retaining the original luminous in the Arabic numerals and cathedral style hands! This is a prize example of a early and rare OMEGA from the WW1 era!
Page 1 2 3 4 5 6 7 8 9 of used vintage watches to buy Vintage Watches under $300 Vintage Watches $300-$500 Vintage Ladies watches to buy Vintage military watches to buy Vintage Watch Accessories to buy View our guest book Sign our guest book Vintage watch Links Vintage watch related articles Ordering information HOMEPAGE
Please sign up for my update list… I will email you when I post fresh vintage watches …please click the link below and enter your email address…
FRESH VINTAGE WATCH AUTOMATIC email CLICK HERE
WatchesToBuy.com
250 Wharncliffe Rd. North
London, Ontario
Canada N6H 2B8
Please email us>click here
phone: 519.266.4380
WatchesToBuy Inc.
Vintage Watch Specialist: Derek Dier
NAWCC member # 0135802
Copyright © 1999-2008 WatchesToBuy Inc.–>>