Description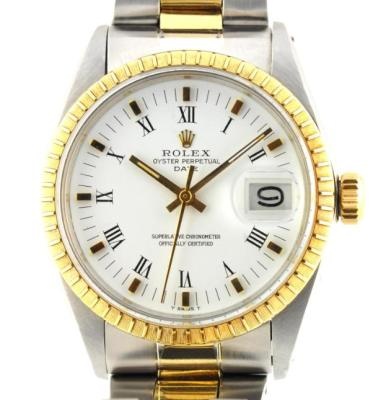 Click watch above…more detail will appear…
SOLD!
This ROLEX OYSTER PERPETUAL DATE ref. 1505 was manufactured in 1970 and exhibits incredibly clean shape for its age! The two-tone ROLEX OSTER bracelet is solid gold and steel and is modestly tight for the age-without and major scratches. The solid gold bezel matches the gold markers on the pristine Roman Numeral dial. The automatic winding ROLEX caliber 1570 movement was just cleaned and is accurate. The 35mm. stainless steel case is without a scratch! If you are seeking a watch that essentially look "like new", then, this is your ROLEX! In "real life" this watch looks fantastic!
Page 1 2 3 4 5 6 7 8 9 of used vintage watches to buy Vintage Watches under $300 Vintage Watches $300-$500 Vintage Ladies watches to buy Vintage military watches to buy Vintage Watch Accessories to buy View our guest book Sign our guest book Vintage watch Links Ordering information HOMEPAGE
Please sign up for my update list… I will email you when I post fresh vintage watches …please click the link below and enter your email address…
FRESH VINTAGE WATCH AUTOMATIC email
WatchesToBuy.com
250 Wharncliffe Rd. North
London, Ontario
Canada N6H 2B8
Please email us>click here
phone: 519.266.4380
WatchesToBuy Inc.
Vintage Watch Specialist: Derek Dier
 
NAWCC member # 0135802
Copyright © 1999-2010 WatchesToBuy Inc.–>> ]]>