Rolex straight sided ref. 6332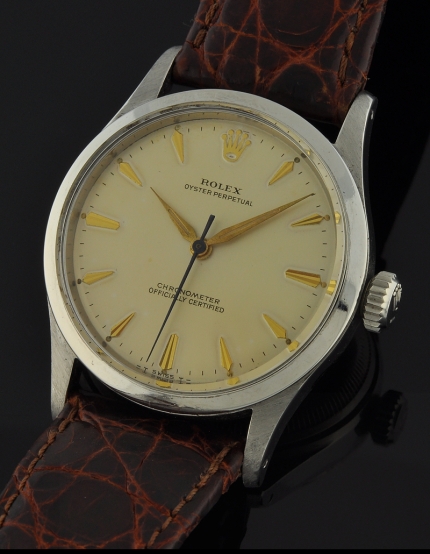 Click on picture above…more detail will appear
SOLD!
This vintage, 1954 ROLEX ref. 6332 is an uncommon straight-sided model that was produced for a very short duration of time; about 2years. The 34mm. stainless steel case features unusual flat sides.  This dial, Dauphine hands and blued steel sweep seconds are completely original to the watch.  I love the even patina this dial has achieved over the decades.  The entire watch exhibits very clean condition and is without any major dings or scratches. The self winding caliber 645 ROLEX movement was just cleaned and is accurate.  I do stress-this is a very uncommon Rolex! 
Additional information
| | |
| --- | --- |
| Brand | |
| Metal | |
| Type | |
| Year of Manufacture | |
Rolex straight sided ref. 6332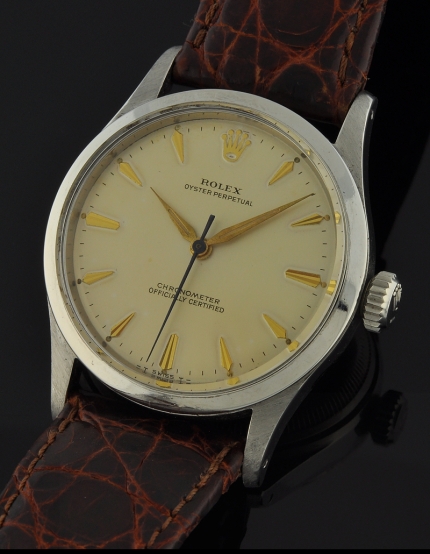 Click on picture above…more detail will appear
SOLD!
This vintage, 1954 ROLEX ref. 6332 is an uncommon straight-sided model that was produced for a very short duration of time; about 2years. The 34mm. stainless steel case features unusual flat sides.  This dial, Dauphine hands and blued steel sweep seconds are completely original to the watch.  I love the even patina this dial has achieved over the decades.  The entire watch exhibits very clean condition and is without any major dings or scratches. The self winding caliber 645 ROLEX movement was just cleaned and is accurate.  I do stress-this is a very uncommon Rolex! 
Additional information
| | |
| --- | --- |
| Brand | |
| Metal | |
| Type | |
| Year of Manufacture | |