Rolex 6532 bulls eye dial flat side case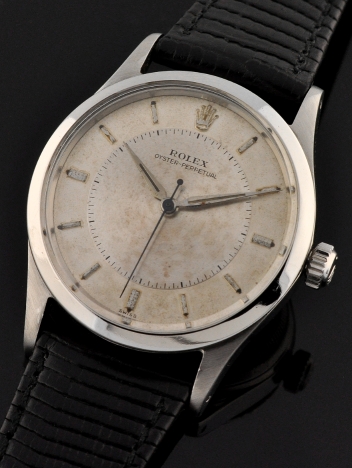 SOLD!
Click on picture above…more detail will appear
This 1954 ROLEX OYSTER PERPETUAL semi-bubbleback reference 6532 (between the lugs) houses the caliber 1030 movement which was just cleaned, overhauled and is quite accurate. The 33mm. stainless steel cases on these watch are uncommon, having FLAT sides as opposed to rounded. This 6532 reference is also found on the ROLEX Deep-Sea. It is very common to find a different reference on the insice case back such as this. ROLEX often used case backs they had on hand from the same year as the watch was produced. The original dial on this watch is the more uncommon bull's eye style which was recently revived by ROLEX and is shown in their new line of datejust and Air-King watches. This original dial is two-tone with raised steel markers and matching Dauphine hands. You relly have to see this watch on your wrist-the vintage look is striking! The shimmering stainless steel, original ROLEX OYSTER 6532 case with 1954 date code measures 33mm and is in great shape overall. This ROLEX recently was overhauled by our ROLEX ap
> ]]>
Additional information
| | |
| --- | --- |
| Brand | |
| Metal | |
| Type | |
| Year of Manufacture | |
Rolex 6532 bulls eye dial flat side case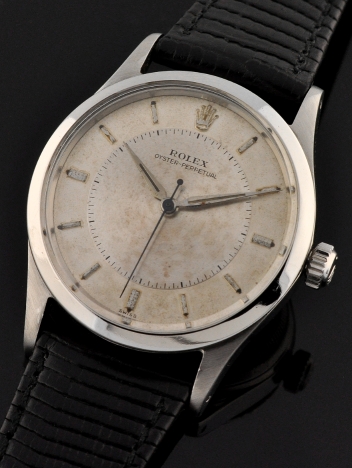 SOLD!
Click on picture above…more detail will appear
This 1954 ROLEX OYSTER PERPETUAL semi-bubbleback reference 6532 (between the lugs) houses the caliber 1030 movement which was just cleaned, overhauled and is quite accurate. The 33mm. stainless steel cases on these watch are uncommon, having FLAT sides as opposed to rounded. This 6532 reference is also found on the ROLEX Deep-Sea. It is very common to find a different reference on the insice case back such as this. ROLEX often used case backs they had on hand from the same year as the watch was produced. The original dial on this watch is the more uncommon bull's eye style which was recently revived by ROLEX and is shown in their new line of datejust and Air-King watches. This original dial is two-tone with raised steel markers and matching Dauphine hands. You relly have to see this watch on your wrist-the vintage look is striking! The shimmering stainless steel, original ROLEX OYSTER 6532 case with 1954 date code measures 33mm and is in great shape overall. This ROLEX recently was overhauled by our ROLEX ap
> ]]>
Additional information
| | |
| --- | --- |
| Brand | |
| Metal | |
| Type | |
| Year of Manufacture | |