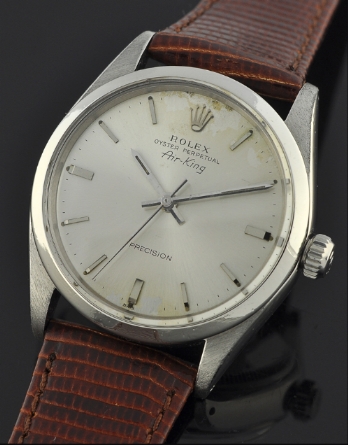 SOLD!
Click watch above…more detail will appear…
This vintage ROLEX OYSTER PERPETUAL AIR-KING dates to 1966 on he case back, with a serial of 1527xxx.  The 34.5mm. stainless steel case is shining with only the tiniest of marks that are not really visible "in person".   This silver dial with steel, baton markers and hands is all original; having some slight age marks which appear more enhanced in our close-up photos, but hardly visible with the naked eye.  The Air-Kings from this era are very simple and uncluttered in their appearance. These watches are true classics.  The reliable, automatic winding ROLEX movement was just cleaned by our ROLEX approved watchmaker and is accurately keeping time.  You cannot go wrong making this your "every-day watch," or, giving this vintage ROLEX as a gift. 
Additional information
| | |
| --- | --- |
| Brand | |
| Metal | |
| Type | |
| Year of Manufacture | |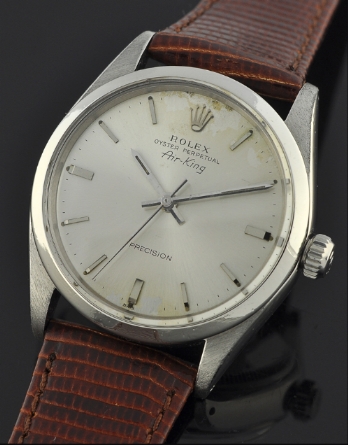 SOLD!
Click watch above…more detail will appear…
This vintage ROLEX OYSTER PERPETUAL AIR-KING dates to 1966 on he case back, with a serial of 1527xxx.  The 34.5mm. stainless steel case is shining with only the tiniest of marks that are not really visible "in person".   This silver dial with steel, baton markers and hands is all original; having some slight age marks which appear more enhanced in our close-up photos, but hardly visible with the naked eye.  The Air-Kings from this era are very simple and uncluttered in their appearance. These watches are true classics.  The reliable, automatic winding ROLEX movement was just cleaned by our ROLEX approved watchmaker and is accurately keeping time.  You cannot go wrong making this your "every-day watch," or, giving this vintage ROLEX as a gift. 
Additional information
| | |
| --- | --- |
| Brand | |
| Metal | |
| Type | |
| Year of Manufacture | |