Description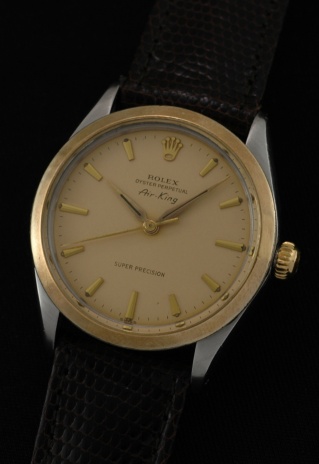 SOLD…
We will pay top dollar for your Air-King!
Please email us>click here
We always offer watches that are on the "cusp" of taking off in price; and this rare reference 5516 ROLEX Air-King super precision from 1962 is no exception! This watch was just authenticated at ROLEX and a very high quality ROLEX lizard band and gold plated buckle installed; with the service box, polish cloth and original ROLEX bag included. The original stainless steel case measuring 34mm., glistens without major dings or scratches, original gold winding crown and has a rare gold plated bezel as marked on the inside case-back. This watch is correctly signed reference 5500 between the lugs and 5516 on the case-back with description to denote the gold plated bezel. The reference 5516 appears to be quite rare and we think made only for the Canadian market. SUPER PRECISION Rolex Air-Kings are rare in their own right; but this reference 5516 is most definitely the rarest of the lot. This champagne coloured dial is completely original, wonderful looking; having raised gold coloured markers and matching Dauphine hands with sweep seconds. The caliber 1530 rotor, automatic movement (just cleaned and overhauled) by our watchmaker, is super reliable. The look of these early Air Kings is more streamlined than the later versions; with more dial and narrower bezel, offering a true "vintage Rolex" look. One last note: most SUPER PRESION air Kings circulating on eBay are "made up" watches with refinished (improper) dials, wrong movements etc. Many of these watches are NOT correct. The ROLEX AIR-KING is very hot right now; due to their understated visual appeal.
> ]]>