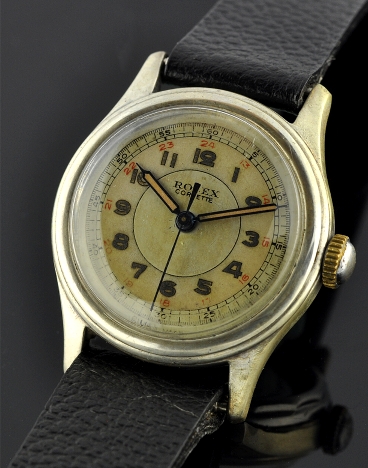 SOLD!
Click on picture above…more detail will appear
This is amongst the rarest of all the Canadian version vintage ROLEX watches produced for WW2 soldiers going overseas. The ROLEX CORVETTE was named after the merchant marine ships that delivered supplies for the war effort. This watch is ENTIRELY original (excepting the crystal-which is always replaced). The 29.25mm. Sterling Silver contract case with screwed steel back is correctly signed ROLEX. All these WW2 ROLEX watches are SMALLER in stature, but larger than the Skyrockets and Victories. Please don't buy this if you do not seek a more demure WW2 size watch. The movement is the correct, fully signed 15 jewel manual winding that was recently cleaned and is accurate. The two-tone dial is completely original with red 24 hour scale, outer minutes track and Arabic (of course-no longer glowing) numerals. You cannot see the two-tone effect in my pictures-it is quite pronounced an fine looking in the flesh. The dustproof crown is original. The blued steel pencil hands with original luminous and sweep seconds are original. We have been handling Canadian Rolex for 25 years and have seen SO MANY put together (fakes) trying to pass off as the correct Corvettes, Hurricanes, Skyrockets, Wellington etc. We have owned original examples in the past with box and papers. We know this watch is completely correct and MOST are NOT that are circulating
> ]]>
Additional information
| | |
| --- | --- |
| Brand | |
| Metal | |
| Type | |
| Year of Manufacture | |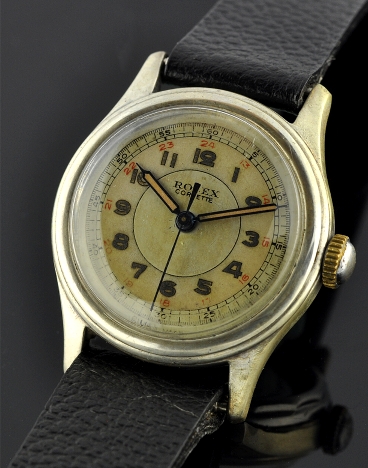 SOLD!
Click on picture above…more detail will appear
This is amongst the rarest of all the Canadian version vintage ROLEX watches produced for WW2 soldiers going overseas. The ROLEX CORVETTE was named after the merchant marine ships that delivered supplies for the war effort. This watch is ENTIRELY original (excepting the crystal-which is always replaced). The 29.25mm. Sterling Silver contract case with screwed steel back is correctly signed ROLEX. All these WW2 ROLEX watches are SMALLER in stature, but larger than the Skyrockets and Victories. Please don't buy this if you do not seek a more demure WW2 size watch. The movement is the correct, fully signed 15 jewel manual winding that was recently cleaned and is accurate. The two-tone dial is completely original with red 24 hour scale, outer minutes track and Arabic (of course-no longer glowing) numerals. You cannot see the two-tone effect in my pictures-it is quite pronounced an fine looking in the flesh. The dustproof crown is original. The blued steel pencil hands with original luminous and sweep seconds are original. We have been handling Canadian Rolex for 25 years and have seen SO MANY put together (fakes) trying to pass off as the correct Corvettes, Hurricanes, Skyrockets, Wellington etc. We have owned original examples in the past with box and papers. We know this watch is completely correct and MOST are NOT that are circulating
> ]]>
Additional information
| | |
| --- | --- |
| Brand | |
| Metal | |
| Type | |
| Year of Manufacture | |