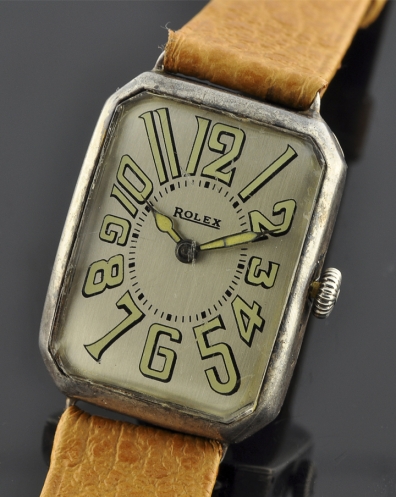 SOLD!
Click watch above…more detail will appear…
Here is a very rare 24.8×34.3mm. Sterling silver LARGE size ROLEX which was purchased from the original owner who was 90 years old!  This is a very early watch, circa 1920's with the original and signed, hinged, ROLEX SILVER case that still retains its clear hallmark on the case side and rear.  The original 15 jewel manual winding ROLEX movement  was just cleaned and is accurately keeping time.  The dial was rather aged, so we copied the original exploding dial font and restored the dial to perfection.  The glass crystal is original and has a small scratch.  We really want to keep as much of this watch original as possible, so we left the crystal. We even left the original patina on the Sterling case, as it has NEVER been polished.  This watch has been stored in a drawer for MANY decades. The hands are also original to the watch. The winding crown (also Sterling) is likely original as well.  I have NEVER seen another example of this ROLEX watch prior to this. 
Additional information
| | |
| --- | --- |
| Brand | |
| Metal | |
| Type | |
| Year of Manufacture | |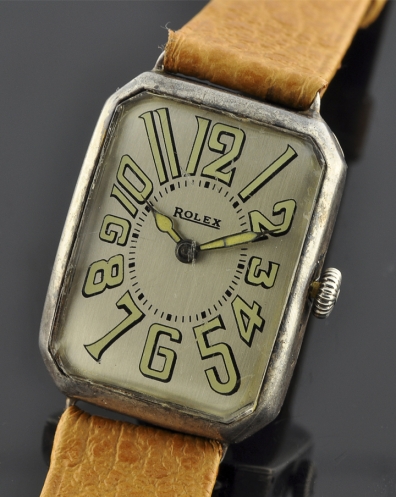 SOLD!
Click watch above…more detail will appear…
Here is a very rare 24.8×34.3mm. Sterling silver LARGE size ROLEX which was purchased from the original owner who was 90 years old!  This is a very early watch, circa 1920's with the original and signed, hinged, ROLEX SILVER case that still retains its clear hallmark on the case side and rear.  The original 15 jewel manual winding ROLEX movement  was just cleaned and is accurately keeping time.  The dial was rather aged, so we copied the original exploding dial font and restored the dial to perfection.  The glass crystal is original and has a small scratch.  We really want to keep as much of this watch original as possible, so we left the crystal. We even left the original patina on the Sterling case, as it has NEVER been polished.  This watch has been stored in a drawer for MANY decades. The hands are also original to the watch. The winding crown (also Sterling) is likely original as well.  I have NEVER seen another example of this ROLEX watch prior to this. 
Additional information
| | |
| --- | --- |
| Brand | |
| Metal | |
| Type | |
| Year of Manufacture | |