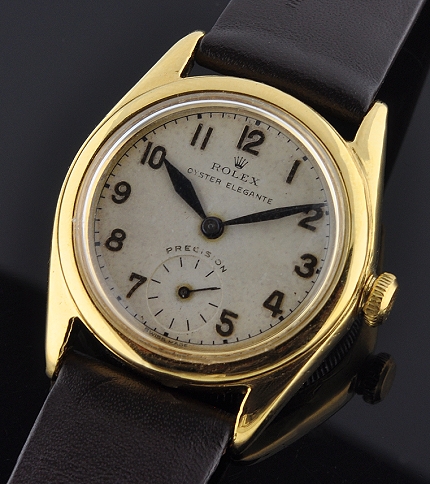 SOLD!
Click watch above…more detail will appear…
This is a circa 1942 ROLEX OYSTER ELEGANTE in a boy's size 30mm. and having an original and uncommon sub-seconds dial with raised gold toned Arabic numerals and curved printing above the sub-seconds. Notice the blued steel, wide, Dauphine hands, which are also original to the watch. The gold plated case has the original stainless steel Oyster back and original ROLEX Oyster winding crown. This crown does not screw down anymore, but fits close to the case and looks great. The manual wind ROLEX movement keeps accurate time after a recent cleaning. Please do not buy this watch if you are not interested in a smaller sized case. This original dial looks fantastic! Â 
> ]]>
Additional information
| | |
| --- | --- |
| Brand | |
| Metal | |
| Type | |
| Year of Manufacture | |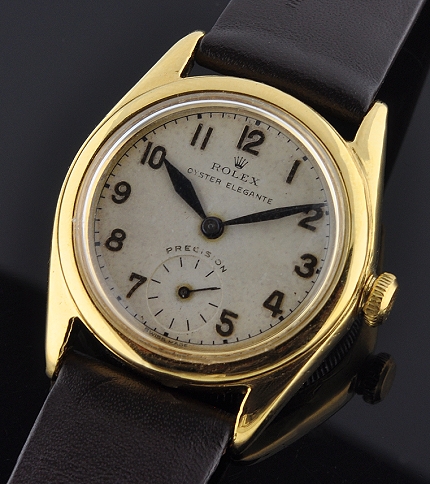 SOLD!
Click watch above…more detail will appear…
This is a circa 1942 ROLEX OYSTER ELEGANTE in a boy's size 30mm. and having an original and uncommon sub-seconds dial with raised gold toned Arabic numerals and curved printing above the sub-seconds. Notice the blued steel, wide, Dauphine hands, which are also original to the watch. The gold plated case has the original stainless steel Oyster back and original ROLEX Oyster winding crown. This crown does not screw down anymore, but fits close to the case and looks great. The manual wind ROLEX movement keeps accurate time after a recent cleaning. Please do not buy this watch if you are not interested in a smaller sized case. This original dial looks fantastic! Â 
> ]]>
Additional information
| | |
| --- | --- |
| Brand | |
| Metal | |
| Type | |
| Year of Manufacture | |