Rolex Oyster Explorer vintage 1960's (1962)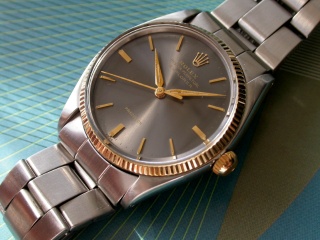 SOLD!
Click on picture above…more detail will appear
Look at this very rare, vintage ROLEX EXPLORER dating to 1962! The original two tone case has a solid gold bezel and original gold winding crown…reference 5501…34.5mm., stainless steel OYSTER case with OYSTER screw back all gleaming like new! The riveted, vintage, ROLEX OYSTER bracelet also is in very fine condition…perfectly correct for this period ROLEX EXPLORER. The dial is what makes this watch very special…slate gray, with gold gilt print…all ORIGINAL and like new condition… it catches the light and produces various colour ranges throughout the day…from dark gray to bluish… to sometimes (slight) purple…WOW! We have never seen this dial colour on an EXPLORER…EVER! Note the gold markers, original, lance style hands and sweep seconds…a visually perfect combination. The caliber 1530 (original) automatic winding movement (same as ROLEX submariner of the same era) has been fully overhauled and cleaned…sparkling…keeping perfect time! Wait until you feel… and see this alluring watch on your wrist… you will absolutely treasure it! This is a real collectors' Rolex watch… a true vintage ROLEX rarity…
Additional information
| | |
| --- | --- |
| Brand | |
| Metal | |
| Type | |
| Year of Manufacture | |
Rolex Oyster Explorer vintage 1960's (1962)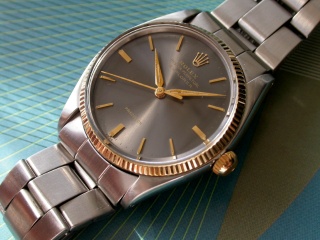 SOLD!
Click on picture above…more detail will appear
Look at this very rare, vintage ROLEX EXPLORER dating to 1962! The original two tone case has a solid gold bezel and original gold winding crown…reference 5501…34.5mm., stainless steel OYSTER case with OYSTER screw back all gleaming like new! The riveted, vintage, ROLEX OYSTER bracelet also is in very fine condition…perfectly correct for this period ROLEX EXPLORER. The dial is what makes this watch very special…slate gray, with gold gilt print…all ORIGINAL and like new condition… it catches the light and produces various colour ranges throughout the day…from dark gray to bluish… to sometimes (slight) purple…WOW! We have never seen this dial colour on an EXPLORER…EVER! Note the gold markers, original, lance style hands and sweep seconds…a visually perfect combination. The caliber 1530 (original) automatic winding movement (same as ROLEX submariner of the same era) has been fully overhauled and cleaned…sparkling…keeping perfect time! Wait until you feel… and see this alluring watch on your wrist… you will absolutely treasure it! This is a real collectors' Rolex watch… a true vintage ROLEX rarity…
Additional information
| | |
| --- | --- |
| Brand | |
| Metal | |
| Type | |
| Year of Manufacture | |