Description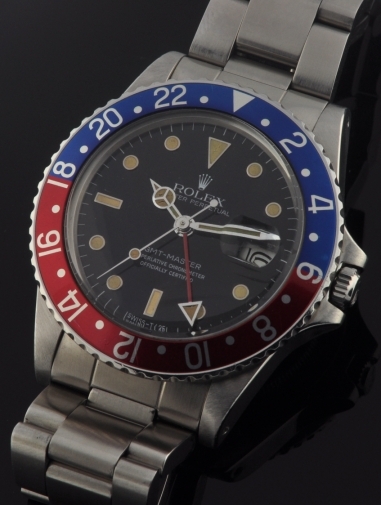 Click watch above…more detail will appear…
SOLD…We will buy YOUR ROLEX GMT MASTER for top dollar!
Please email us>click here
Here is an all original and rare transitional model 39mm. 1981 ROLEX GMT MASTER. This is the 16750, which replaced the 1675 and was only produced for two years. The caliber 3075 automatic winding movement was introduced with this model and only used for 2 years. The 3075 offered 28.8k bph rate as compared to 19.8k for the previous caliber 1575. The glossy dial is really quite "pretty", having deeply aged markers and matching original hands. These watches were serviced by ROLEX and often the matte dials were changed to the raised white gold surround glossy dial such as this. The movement was cleaned and is accurate. the steel case is VERY clean-no dings or major scratches. The 78360 bracelet is VEY clean. Bankwire only please. This is a highly collectable and desirable ROLEX sporting watch.
> ]]>