Description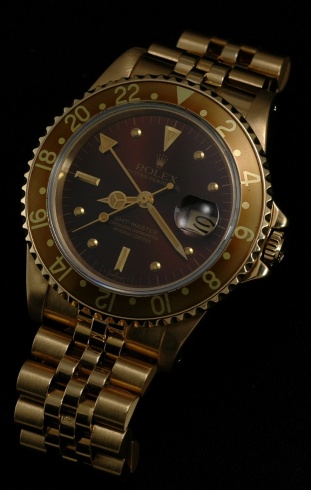 Click on picture above…more detail will appear
SOLD…
We will buy YOUR GMT for top dollar!
Please email us>click here
This is a rare, ALL 18k. solid gold, reference 16758 (between the lugs) ROLEX GMT MASTER with its' purchase dating to 1986 and manufactured by ROLEX in 1982. Very few ALL GOLD ROLEX GMT and SUBMARINERS were produced; making them the most uncommon and prized of the more recent ROLEX sports watches. This watch (luckily) retains its' original ROLEX FACTORY papers (guarantee with serial number, date and location of Purchase). Also, a recent receipt from Canadian jeweler shows a $780 overhaul completed in Dec. 2007. The case and bracelet sparkle…. only some superficial scratches…no major dings. The hidden clasp (original) jubilee bracelet looks spectacular; also without dings, and is tight (not loose or sloppy)…very clean! This watch will fit a smaller wrist. but…it is very easy to locate another link if you need to acquire one. The previous owner had a smaller wrist. We have a small wrist… we can wear it loosely with one link removed; so, it may fit you! The dial is luxurious to gaze upon; being the most sought after "bronze coloured"; which provides a sunburst effect…. really lovely! The dial is the "nipple style" and is the most desirable of the dials offered for this watch. It is in "like new" condition and without any blemishes. The sapphire crystal is in great shape; having only the slightest tiny mark visible only on an angle in certain lighting…. I would not touch it. This GMT MASTER 16758 is on of the very first ROLEX watches to offer the synthetic sapphire crystal. The bezel is completely original; exhibiting gentle fading and marks that add character, but overall, looking excellent! Being all original; we recommend NOT replacing the bezel; as it adds value keeping this collectable watch "all correct". The automatic winding movement with quickset feature was overhauled in December 2007 (receipt included) and is accurate. These all GOLD GMT MASTERS are very uncommon and will only increase in value due to their high desirability. Remember…this one has papers!
> ]]>