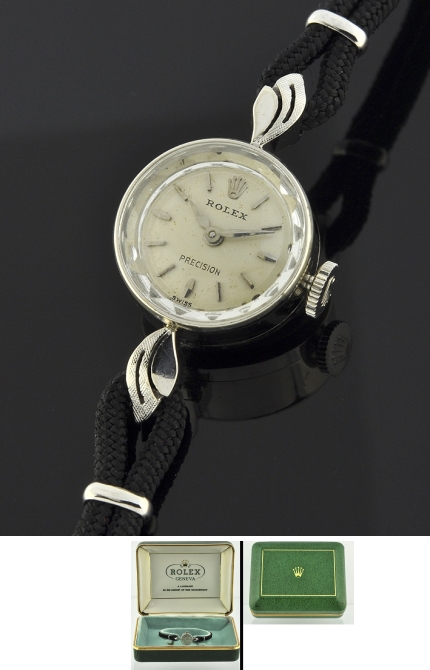 SOLD!
Click watch above…more detail will appear…
This vintage, solid 14k. white gold LADIES ROLEX has a story. We bought this cocktail watch from the original owner, who purchased it on the early 60's. Her Husband took two years to pay this watch off through People's Credit  jewelers here in Canada.  The lovely lady who wore the watch, stated that she only wore it on very special occasions.  The original and valuable ROLEX box is still present,  We just had the manual winding ROLEX movement cleaned by our ROLEX watchmaker and is accurate, The dainty, 14mm. solid, white gold case is pristine; with leaf lugs and original faceted, glass crystal. The original ROLEX winding crown is still present.  Notice the fine and original dial, having raised, white gold markers and hands.  This dial looks VERY clean in "real life".  This is a little "prize!"
Additional information
| | |
| --- | --- |
| Brand | |
| Metal | |
| Type | |
| Year of Manufacture | |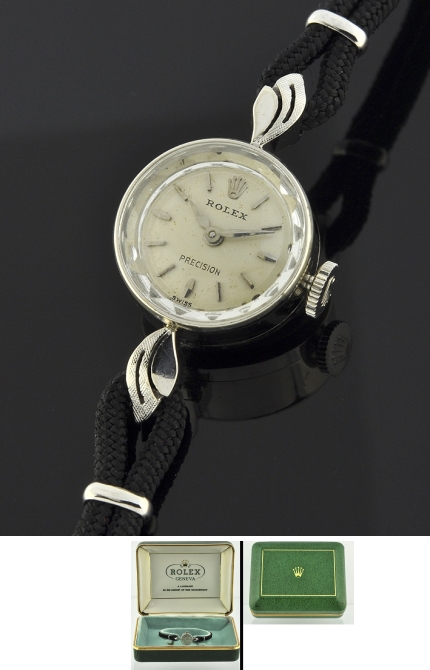 SOLD!
Click watch above…more detail will appear…
This vintage, solid 14k. white gold LADIES ROLEX has a story. We bought this cocktail watch from the original owner, who purchased it on the early 60's. Her Husband took two years to pay this watch off through People's Credit  jewelers here in Canada.  The lovely lady who wore the watch, stated that she only wore it on very special occasions.  The original and valuable ROLEX box is still present,  We just had the manual winding ROLEX movement cleaned by our ROLEX watchmaker and is accurate, The dainty, 14mm. solid, white gold case is pristine; with leaf lugs and original faceted, glass crystal. The original ROLEX winding crown is still present.  Notice the fine and original dial, having raised, white gold markers and hands.  This dial looks VERY clean in "real life".  This is a little "prize!"
Additional information
| | |
| --- | --- |
| Brand | |
| Metal | |
| Type | |
| Year of Manufacture | |