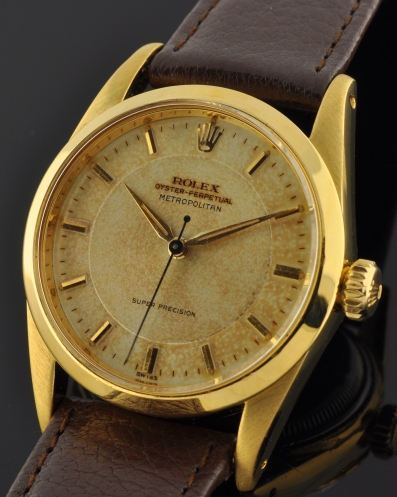 Click watch above…more detail will appear…
SOLD!
Here is very rare reference 5502 ROLEX METROPOLITAN house in a large looking 34mm. gold plated case with stainless steel back and housing a (just serviced) butterfly rotor, caliber 1530 automatic winding ROLEX movement.  This watch dates to 1954 (282xxx) when ROLEX began experimenting with new names of their watches, prior to the introduction of the EXPLORER.  Explorers, METROPOLITAN and MERITUS were a few of the names and were used on dress version ROLEX watches marketed in CANADA only in 1954-55 with only the EXPLORER making it to mass production. The METROPOLITAN is the rarest of all three of these experimental dress watches.  This is example is truly fabulous!  The two-tone dial is completely original with lovely patina and Dauphine hands with blued steel sweep seconds. The middle section is reflective, and on an angle in REAL LIFE is displays a much cleaner and less spottier looking silver reflecting interior.  These close-up photos enhance the age greatly. The case was just re-plated to provide the original luster.  These lugs are elongated (43.2mm.) and the case is 34mm. wide-all beautiful. An authentic ROLEX leather band and ROLEX gold plated buckle (both new) are installed to enhance the look and value of this rare and collectable watch. This is  truly an investment grade ROLEX, which I believe will escalate in value over time. 
> ]]>
Additional information
| | |
| --- | --- |
| Brand | |
| Metal | |
| Type | |
| Year of Manufacture | |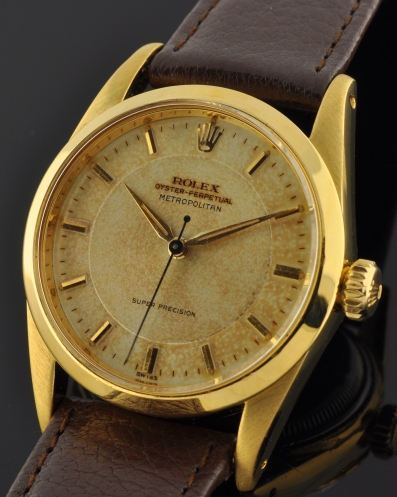 Click watch above…more detail will appear…
SOLD!
Here is very rare reference 5502 ROLEX METROPOLITAN house in a large looking 34mm. gold plated case with stainless steel back and housing a (just serviced) butterfly rotor, caliber 1530 automatic winding ROLEX movement.  This watch dates to 1954 (282xxx) when ROLEX began experimenting with new names of their watches, prior to the introduction of the EXPLORER.  Explorers, METROPOLITAN and MERITUS were a few of the names and were used on dress version ROLEX watches marketed in CANADA only in 1954-55 with only the EXPLORER making it to mass production. The METROPOLITAN is the rarest of all three of these experimental dress watches.  This is example is truly fabulous!  The two-tone dial is completely original with lovely patina and Dauphine hands with blued steel sweep seconds. The middle section is reflective, and on an angle in REAL LIFE is displays a much cleaner and less spottier looking silver reflecting interior.  These close-up photos enhance the age greatly. The case was just re-plated to provide the original luster.  These lugs are elongated (43.2mm.) and the case is 34mm. wide-all beautiful. An authentic ROLEX leather band and ROLEX gold plated buckle (both new) are installed to enhance the look and value of this rare and collectable watch. This is  truly an investment grade ROLEX, which I believe will escalate in value over time. 
> ]]>
Additional information
| | |
| --- | --- |
| Brand | |
| Metal | |
| Type | |
| Year of Manufacture | |