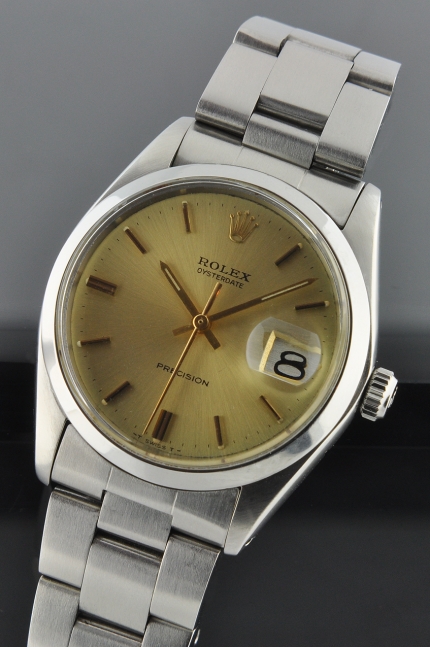 SOLD!
Click watch above…more detail will appear…
This 1971 ROLEX OYSTERDATE looks close to new, with the original and extremely clean gold dial, gold, baton hands and markers. The manual winding ROLEX movement is considered one of ROLEX'S more robust movements due to the fact it has less moving parts as compared to an automatic. The manual wind ROLEX movement keeps accurate time after a recent cleaning. The stainless steel 35mm. case is extremely clean, as is the ROLEX OYSTER thick, stainless steel 12 link bracelet. You could not ask for a cleaner watch! Only
> ]]>
Additional information
| | |
| --- | --- |
| Brand | |
| Metal | |
| Type | |
| Year of Manufacture | |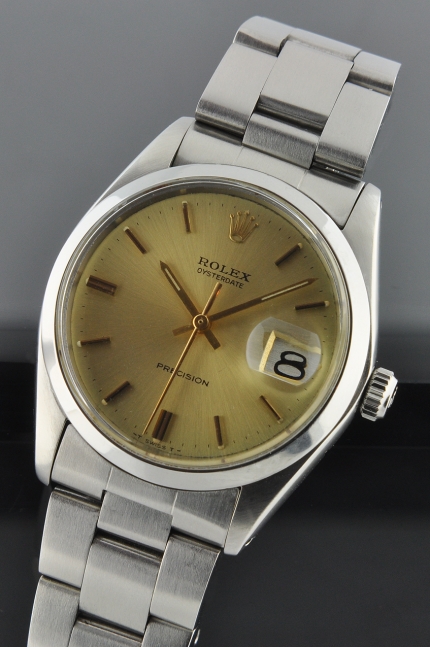 SOLD!
Click watch above…more detail will appear…
This 1971 ROLEX OYSTERDATE looks close to new, with the original and extremely clean gold dial, gold, baton hands and markers. The manual winding ROLEX movement is considered one of ROLEX'S more robust movements due to the fact it has less moving parts as compared to an automatic. The manual wind ROLEX movement keeps accurate time after a recent cleaning. The stainless steel 35mm. case is extremely clean, as is the ROLEX OYSTER thick, stainless steel 12 link bracelet. You could not ask for a cleaner watch! Only
> ]]>
Additional information
| | |
| --- | --- |
| Brand | |
| Metal | |
| Type | |
| Year of Manufacture | |