Rolex Oysterdate Precision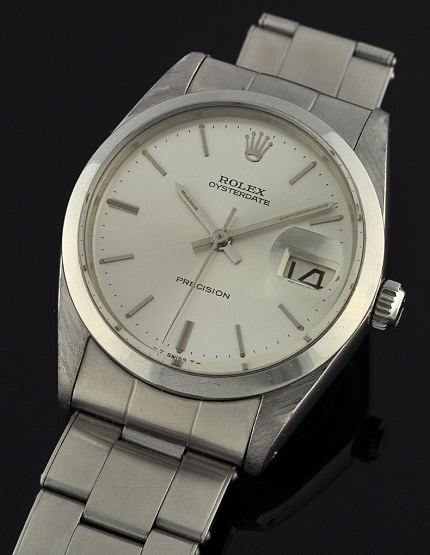 Click watch above…more detail will appear…
SOLD!
Look at this ALL ORIGINAL and VERY clean ROLEX OYSTERDATE  precision dating to 1967.  The 34mm. stainless steel case displays very clean overall condition, as does the riveted and tight vintage ROLEX OYSTER bracelet.  This watch was just overhauled by our ROLEX approved watchmaker and is accurately keeping time.  The silver (original) dial is spotless. These manual winding ROLEX movements are the true workhorses of all the ROLEX variations.  There is no automatic rotor, so, there are fewer moving parts.  UPi can wear this watch daily fro many decades and then hand it down to your son or daughter! 
> ]]>
Additional information
| | |
| --- | --- |
| Brand | |
| Metal | |
| Type | |
| Year of Manufacture | |
Rolex Oysterdate Precision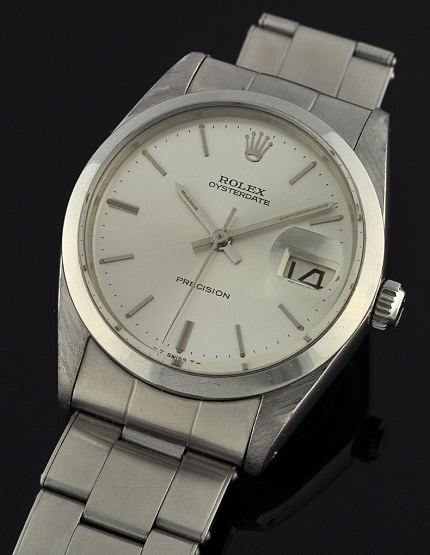 Click watch above…more detail will appear…
SOLD!
Look at this ALL ORIGINAL and VERY clean ROLEX OYSTERDATE  precision dating to 1967.  The 34mm. stainless steel case displays very clean overall condition, as does the riveted and tight vintage ROLEX OYSTER bracelet.  This watch was just overhauled by our ROLEX approved watchmaker and is accurately keeping time.  The silver (original) dial is spotless. These manual winding ROLEX movements are the true workhorses of all the ROLEX variations.  There is no automatic rotor, so, there are fewer moving parts.  UPi can wear this watch daily fro many decades and then hand it down to your son or daughter! 
> ]]>
Additional information
| | |
| --- | --- |
| Brand | |
| Metal | |
| Type | |
| Year of Manufacture | |