Rolex Oyster Viceroy Chronometer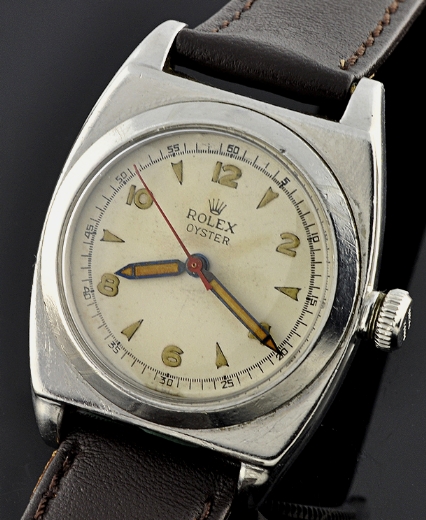 Click watch above…more detail will appear…
SOLD!
This 1945 ROLEX OYSTER CHRONOMETER is becoming hard to find. The  30x39mm. stainless steel ROLEX OYSTER "Viceroy" style case is a smaller size, but appears larger than the boy's size due to the shape of the case and provides decent wrist coverage.  I do like that fact the case has not been polished and maintains its original state. The original OYSTER PATENT winding crown is still present. The manual winding ROLEX movement is quite fine-meeting chronometer standards and adjusted to six positions and was just cleaned by our ROLEX approved watchmaker. The dial was restored MANY decades ago, and has taken on a graceful patina over time.  The blued steel pencil hands are original to the watch.  This is a very uncommon ROLEX, with a very FINE movement. 
Additional information
| | |
| --- | --- |
| Brand | |
| Metal | |
| Type | |
| Year of Manufacture | |
Rolex Oyster Viceroy Chronometer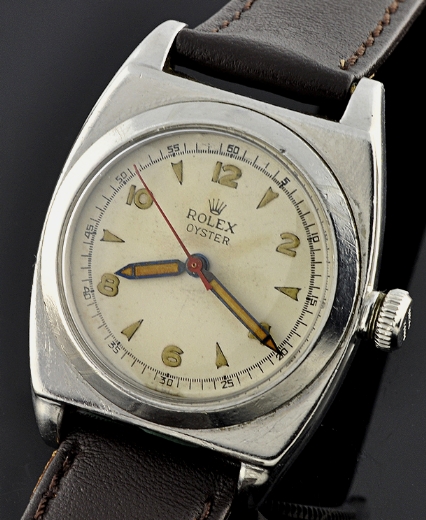 Click watch above…more detail will appear…
SOLD!
This 1945 ROLEX OYSTER CHRONOMETER is becoming hard to find. The  30x39mm. stainless steel ROLEX OYSTER "Viceroy" style case is a smaller size, but appears larger than the boy's size due to the shape of the case and provides decent wrist coverage.  I do like that fact the case has not been polished and maintains its original state. The original OYSTER PATENT winding crown is still present. The manual winding ROLEX movement is quite fine-meeting chronometer standards and adjusted to six positions and was just cleaned by our ROLEX approved watchmaker. The dial was restored MANY decades ago, and has taken on a graceful patina over time.  The blued steel pencil hands are original to the watch.  This is a very uncommon ROLEX, with a very FINE movement. 
Additional information
| | |
| --- | --- |
| Brand | |
| Metal | |
| Type | |
| Year of Manufacture | |