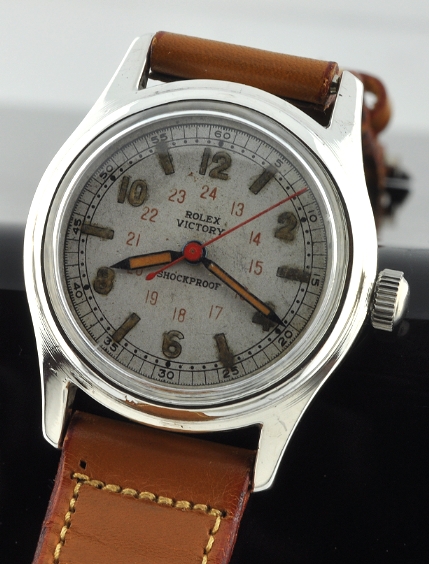 Click watch above…more detail will appear…
 SOLD!
This vintage, all original and correct 1942 ROLEX AVIATORS watch named the "ROLEX VICTORY" was produced for Canadian soldiers going overseas in WW2 and was marketed towards fighter pilots. The ROLEX VICTORY is MUCH harder to find than the SKYROCKET. We are having a difficult time finding original examples such as this. The original, and very clean 29mmstainless steel case with original dust proof winding crown, made by ID case company for ROLEX is in very fine condition. Many of these contract cases made by ID and PIONEER were NOT signed ROLEX, as ROLEX commissioned ID an PIONEER case company to produce their cases in CANADA to circumvent import duties. This particular case is signed "ROLEX." These ROLEX VICTORY and SKYROCKET watches were ALL small in stature, so, please don't buy it if you don't want a smaller sized watch. They were likely made smaller do reduce the chance of damaging them. The original dial on this VICTORY is very striking, with complex minute register and red 24 hour scale. Notice the original, radium, blued steel hands and red sweep-seconds. The manual winding caliber 59 ROLEX movement (correctly signed ROLEX under the dial) is sparkling and keeping accurate time after a recent cleaning by our watchmaker. We simply are not seeing these watches appear as of late. Most VICTORY dials have been refinished, which greatly reduces their value
>
Additional information
| | |
| --- | --- |
| Brand | |
| Metal | |
| Type | |
| Year of Manufacture | |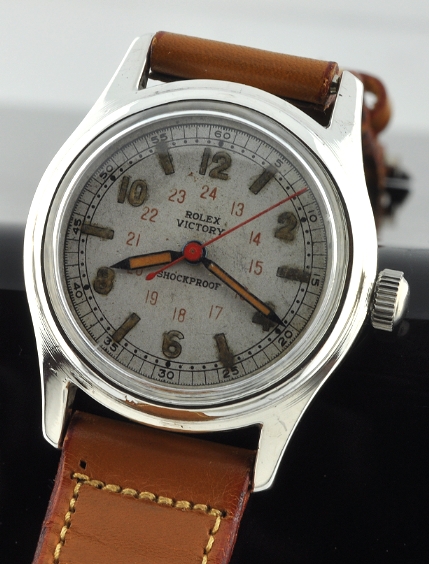 Click watch above…more detail will appear…
 SOLD!
This vintage, all original and correct 1942 ROLEX AVIATORS watch named the "ROLEX VICTORY" was produced for Canadian soldiers going overseas in WW2 and was marketed towards fighter pilots. The ROLEX VICTORY is MUCH harder to find than the SKYROCKET. We are having a difficult time finding original examples such as this. The original, and very clean 29mmstainless steel case with original dust proof winding crown, made by ID case company for ROLEX is in very fine condition. Many of these contract cases made by ID and PIONEER were NOT signed ROLEX, as ROLEX commissioned ID an PIONEER case company to produce their cases in CANADA to circumvent import duties. This particular case is signed "ROLEX." These ROLEX VICTORY and SKYROCKET watches were ALL small in stature, so, please don't buy it if you don't want a smaller sized watch. They were likely made smaller do reduce the chance of damaging them. The original dial on this VICTORY is very striking, with complex minute register and red 24 hour scale. Notice the original, radium, blued steel hands and red sweep-seconds. The manual winding caliber 59 ROLEX movement (correctly signed ROLEX under the dial) is sparkling and keeping accurate time after a recent cleaning by our watchmaker. We simply are not seeing these watches appear as of late. Most VICTORY dials have been refinished, which greatly reduces their value
>
Additional information
| | |
| --- | --- |
| Brand | |
| Metal | |
| Type | |
| Year of Manufacture | |