White Gold Vacheron Constantin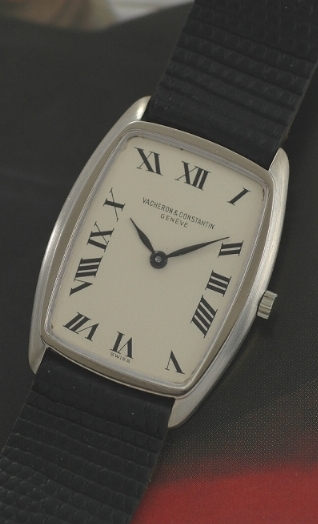 Click on picture above…more detail will appear
SOLD!
This 1970's, fine & rare. ALL ORIGINAL VACHERON CONSTANTIN is solid white gold and U L T R A-T H I N…only 4mm… one of the thinnest watches produced in this era! The case is smaller in size…33×24.5mm….very understated…classic and simple in its' design. This timepiece is for the discriminating buyer that prefers a more demure watch… please be certain you seek its' smaller stature. The famous and ultra-thin caliber 1003 manual winding VACHERON CONSTANTIN movement is amongst the thinnest ever produced: having polished screw heads…Geneva stripes…all glistening and accurate after a recent clean and overhaul. The factory, original ivory dial with fired enamel Roman numerals and enamel coated hands is classic and easy to read. The thin and fine quality, supple, leather band is the original (faintly signed Vacheron & Constantin)…so, since it was still in good shape, it is still present. The buckle is unsigned. The tonneau shaped case is enhanced with a narrow, polished bezel. The original mineral glass crystal is present. Vacheron Constantin is one of the worlds' finest and oldest watchmakers (since 1750)…over 250 years old! Vacheron watches are amongst our favourite of all brands here at WatchesToBuy… we truly think they are one of the finest of all watch brands
Additional information
| | |
| --- | --- |
| Brand | |
| Metal | |
| Type | |
| Year of Manufacture | |
White Gold Vacheron Constantin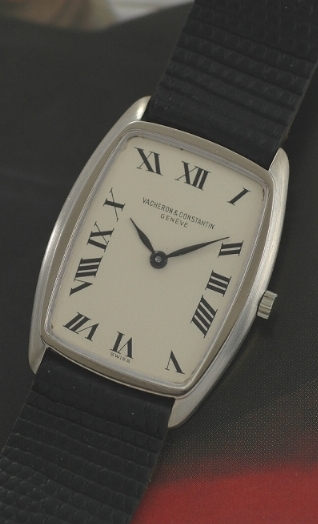 Click on picture above…more detail will appear
SOLD!
This 1970's, fine & rare. ALL ORIGINAL VACHERON CONSTANTIN is solid white gold and U L T R A-T H I N…only 4mm… one of the thinnest watches produced in this era! The case is smaller in size…33×24.5mm….very understated…classic and simple in its' design. This timepiece is for the discriminating buyer that prefers a more demure watch… please be certain you seek its' smaller stature. The famous and ultra-thin caliber 1003 manual winding VACHERON CONSTANTIN movement is amongst the thinnest ever produced: having polished screw heads…Geneva stripes…all glistening and accurate after a recent clean and overhaul. The factory, original ivory dial with fired enamel Roman numerals and enamel coated hands is classic and easy to read. The thin and fine quality, supple, leather band is the original (faintly signed Vacheron & Constantin)…so, since it was still in good shape, it is still present. The buckle is unsigned. The tonneau shaped case is enhanced with a narrow, polished bezel. The original mineral glass crystal is present. Vacheron Constantin is one of the worlds' finest and oldest watchmakers (since 1750)…over 250 years old! Vacheron watches are amongst our favourite of all brands here at WatchesToBuy… we truly think they are one of the finest of all watch brands
Additional information
| | |
| --- | --- |
| Brand | |
| Metal | |
| Type | |
| Year of Manufacture | |